"The Magnitude of Pope John Paul II"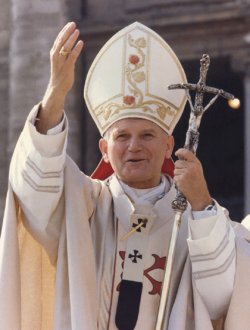 This afternoon we ate dinner in our community room and watched the videotaped funeral of the Holy Father. The splendor of the spectacle before us gave us the shivers, for we knew that we would never see anything quite like the tribute that the hierarchy of Church, the religious leaders, the world dignitaries, the crowds of pilgrims (all those Polish flags!) offered to "the man from a faraway country". Indeed, Pope John Paul II had come to them, and now they had come to him, in the millions, to show him their love, and bid him farewell.
Once again, the young faces in the crowd at St. Peter's Square, attested to how this Pope had truly captured their hearts. Our Dominican brother, Fr. John Paul Walker, O.P., assistant chaplain at Providence College, preached at the college's Memorial Mass for the Pope this past Wednesday, and captured very powerfully how Pope John Paul II spoke to young people and why they listened to him, and called him "Papa". Click here to read Father's homily.