August 2--Bl. Juana d'Aza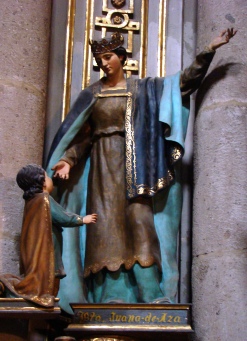 With great joy, we Dominican's celebrate the feast of our "grandmother"--Bl. Juana d'Aza, the mother of our father, St. Dominic.
Bl. Jane was known for her great generosity and kindness to the poor. We are told that once, she gave all the wine in the cellar to a poor family. Her husband, Felix, came home and asked Juana to bring him some wine to drink. She prayed that God would reward her, and found that the wine cask was full. To this day, when one goes to Caleruega, one can visit the wine-cellars of the Guzman family!
There is a story that when Juana was pregnant with St. Dominic she had a dream of a black and white dog running throughout Europe with a flaming torch in his mouth. Wherever he went the land became inflamed. And of course, later, when the Order became known as Dominicans the play on the word was Domini-canes: hounds of the Lord.
Today, the Guzman tower is part of the Dominican monastery. The monastery is the center, both literally and spiritually of the village. Below is a clip from our "family" in Caleruega about the Guzman family. It's in Spanish but, even if you don't understand Spanish you will enjoy it!